【Exhibitor Profile】OP Srl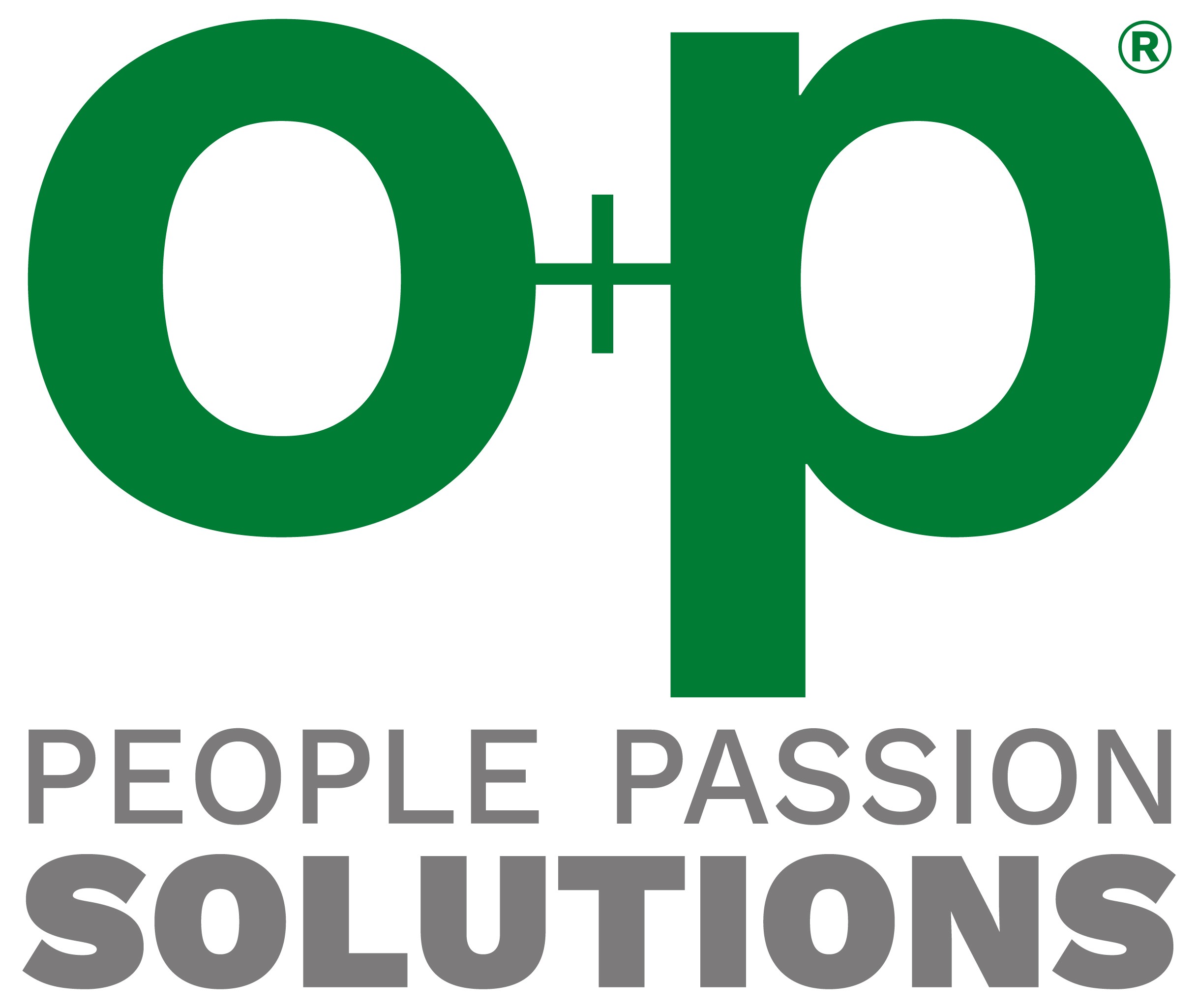 OP Srl is an Italian manufacturer of hydraulic hose and tube processing equipment, with a recognized international presence and more than forty years of experience in the market. Its strong features are the wideness of range, the versatility of its products, that can be used in variety of different sectors. The products offered include both equipment for the hose assembly (crimpers, hose saws, skivers, machines for fittings assembly, markers, washing units, test benches and complimentary accessories like hose coilers, hose holders and prickling devices) and machines for the rigid tube processing (benders, 37°-90° flaring, deburring and DIN2353 rings pre-assembling machines, together with multifunctional centres, which reunite in a single unit all of the above mentioned operations). OP is a dynamic reality, whose activity is guided by innovation, cutting-edge technologies and a constant focus on research and development. The path of O+P is marked by a constant growth, which led it to become one of the international key players in its industry. Sign of this is the opening of three foreign branches: OP Shanghai Co. Ltd., based in Shanghai, OP USA INC, based in Boston and OP INDIA Pvt. Ltd., based in New Delhi, each dedicated to serve their domestic market.
CATEGORY: HOSE ASSEMBLY EQUIPMENT
Crimper TUBOMATIC V160IES: ideal for high volume production.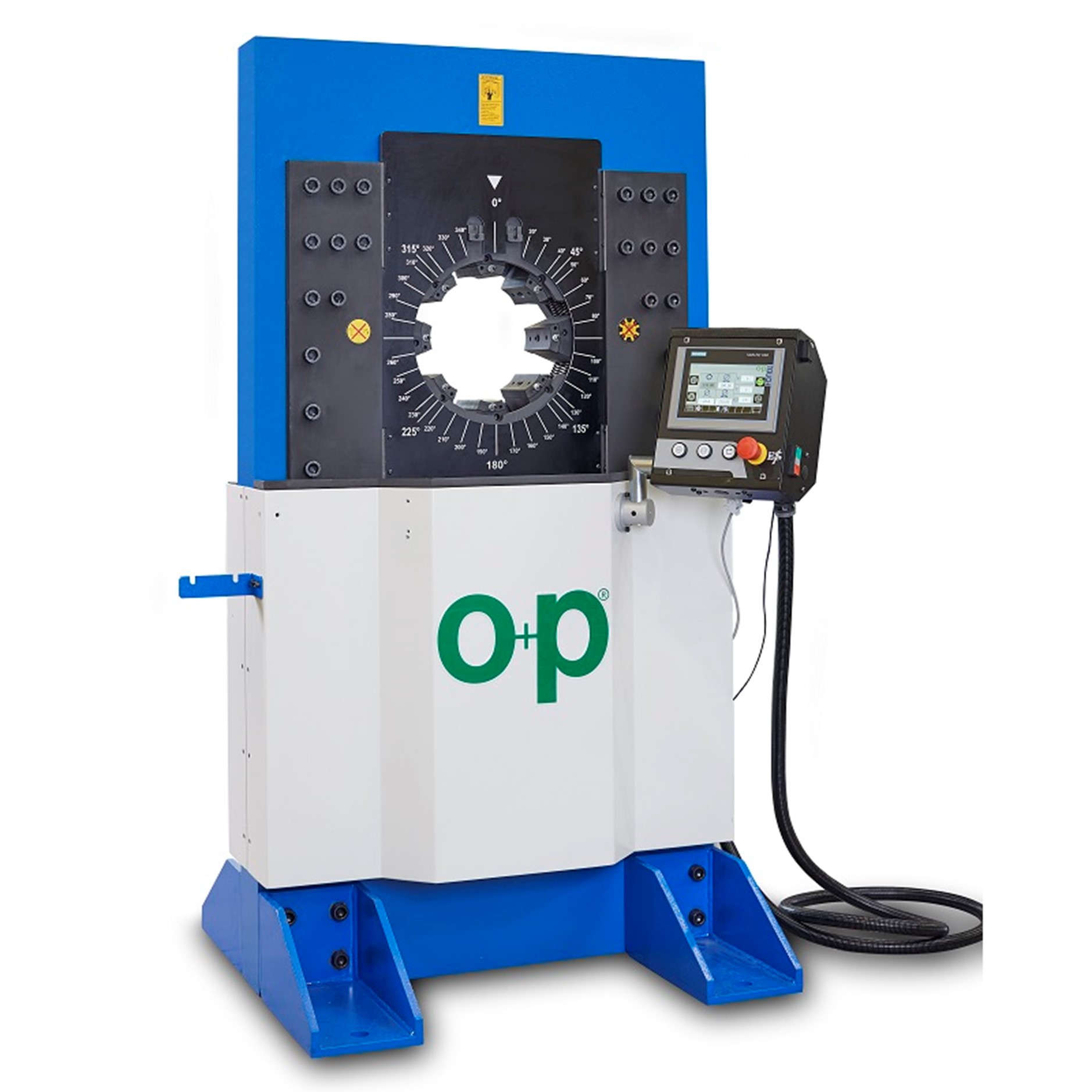 O+P high volume crimping machine TUBOMATIC V160IES is ideal for hoses up to 3" six spirals and industrial hoses up to 6" (crimping force 345 TON, maximum crimping diameter 160 mm).
The machine is equipped with a grease-free narrow crimping head, suitable to crimp big hose ends even with large flanges. It is provided with a silent pump, back limit switch and touch-screen ES4 electronic control system.
Many optionals are available upon request: pressure and speed control system, data transfer kit, crimping diameter self-correction system.
CATEGORY: RIGID TUBE ASSEMBLY EQUIPMENT
CENTER MAXI: the mobile multifunctional unit for rigid tube processing.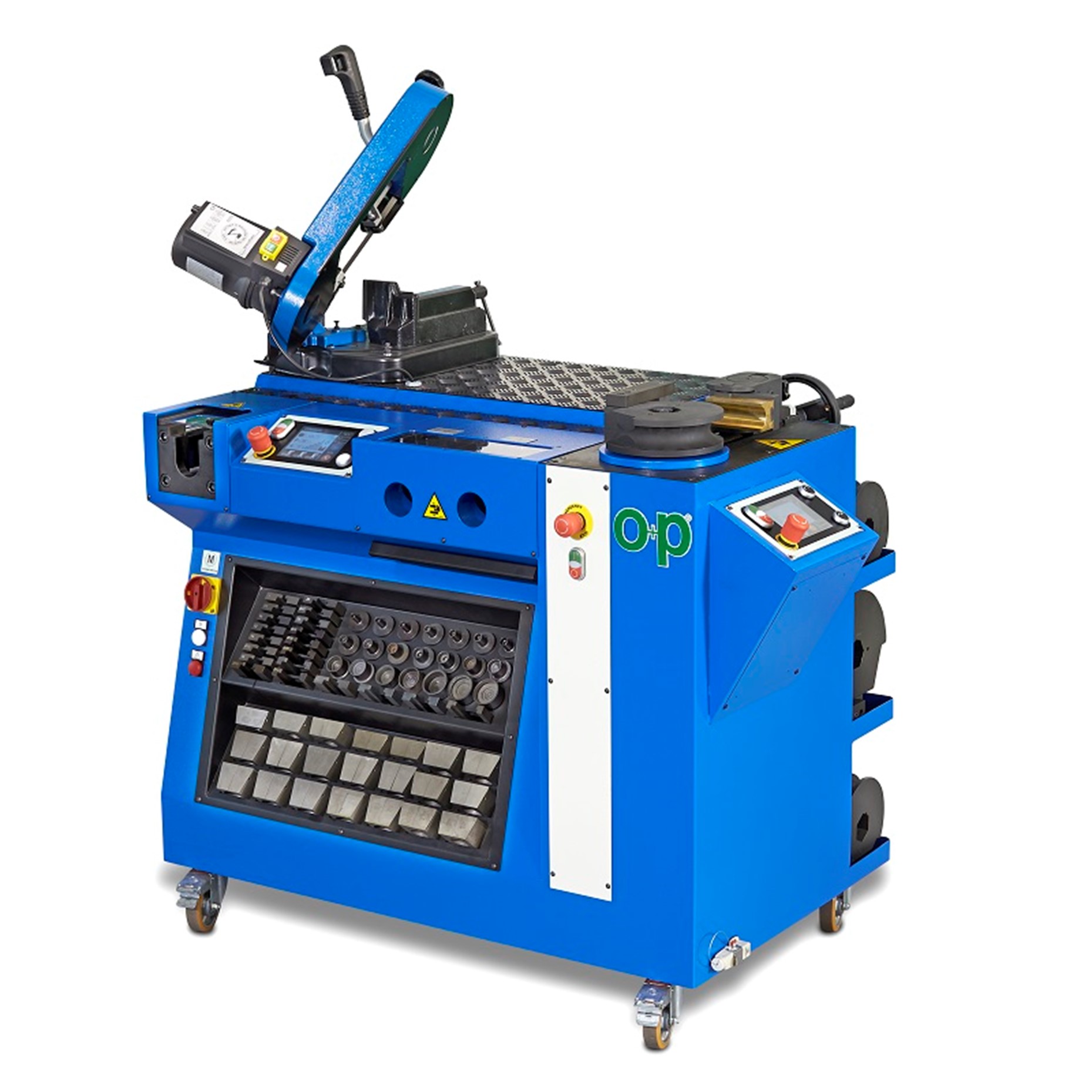 The CENTER MAXI Multifunctional Unit allows many operations such as cutting, internal and external deburring, bending, pre-assembling rings according to the DIN 2353 standards, 37° flaring of rigid stainless steel (AISI 316 TI) and carbon steel (ST 37.4) rigid tubes, for 6 to 42 mm and 4 mm thick fittings complying with SAE and JIC standards.
One of the main characteristics of this machine is the presence of a double working level: an upper level for bends up to 180° and a lower level for standard tubes.
The electronic control ensures enhanced performance and makes this machine suitable for volume production of hydraulic rigid tubes.