SMART HYDRAULIC PLAZA will make its debut at PTC ASIA 2023
This year PTC ASIA will build an area named "SMART HYDRAULIC PLAZA".A major upgrade made by both sides building on the success of the Hydraulic Innovation Technology Forum jointly held for many years!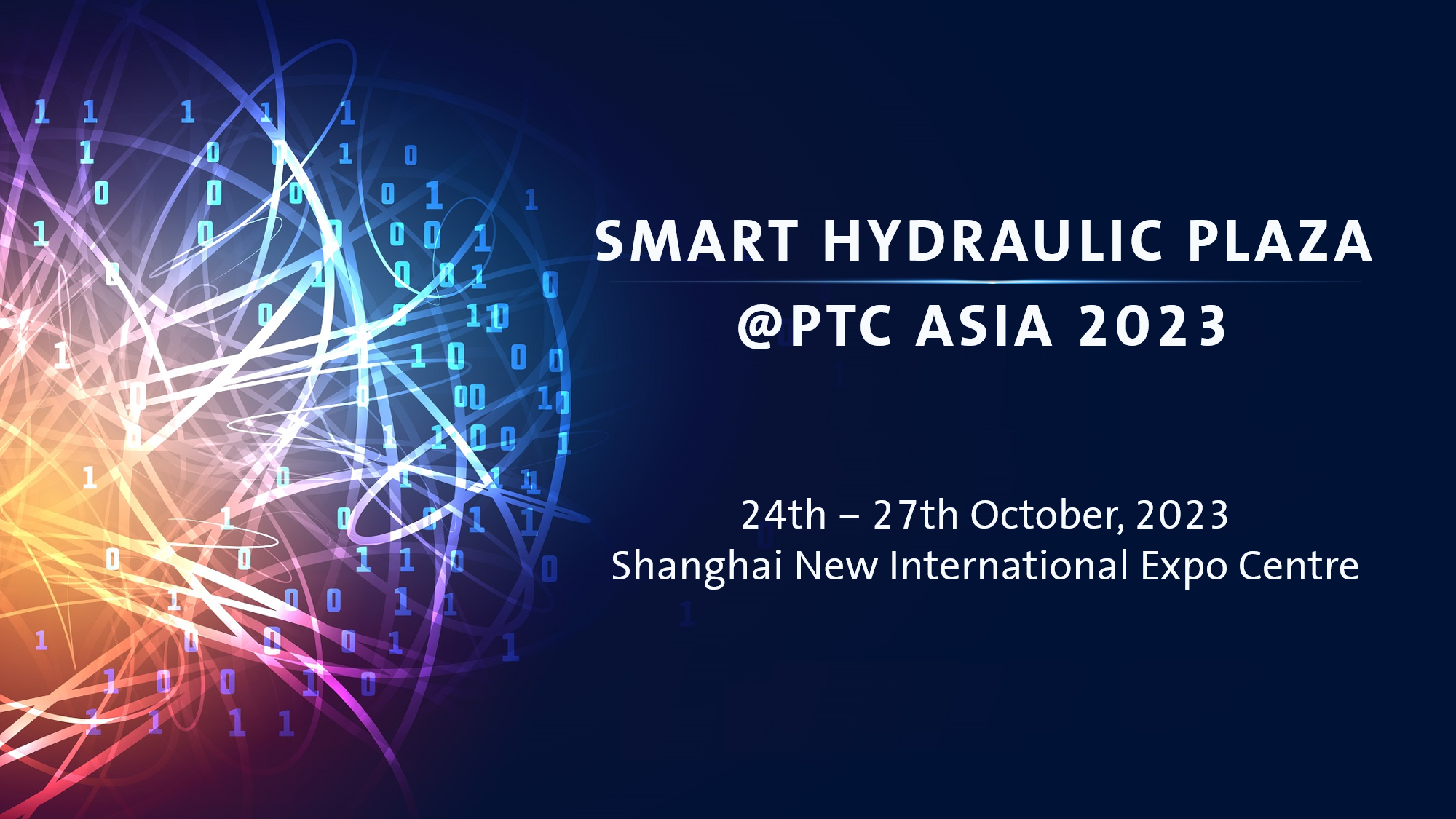 The SMART HYDRAULIC PLAZA will include an exhibition area and a forum area with a special theme of smart hydraulics. Instead of following the traditional mode of "one booth for one company", the exhibition will be creatively organized around products and ecosystems. Centering on the smart hydraulic components of Hydraulic Industry 4.0, the exhibition area encompasses the upstream and downstream of the industry chain to demonstrate a complete ecosystem from parts to components and from products to application.
10 Categories for an all-round display of the smart hydraulic ecosystem
SMART HYDRAULIC PLAZA will exhibit a selection of representative products reviewed by expert teams, to reflect the forefront technologies of smart hydraulics. The components required in upstream and downstream industries and the technologies and products of related ecosystems will also be creatively displayed altogether to demonstrate the latest products and technologies at home and abroad and keep in line with the industry trend of making hydraulics smart.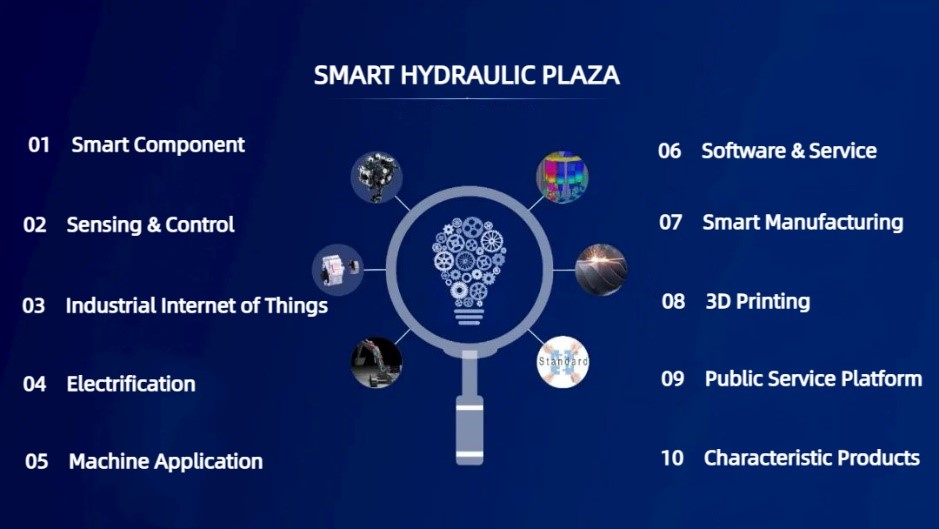 10 subdivided categories will be set in the SMART HYDRAULIC PLAZA to show the smart hydraulic ecosystem.
01 Smart Component
Smart hydraulic pumps, valves, cylinders and other components
02 Sensing & Control
Sensors, chips, controllers and other accessories used with smart hydraulic components
03 Industrial Internet of Things
Solutions such as remote condition monitoring, predictive maintenance and big data analysis of hydraulic systems
04 Electrification
Combined solutions of hydraulics technologies and electric drive technologies
05 Machine Application
Sensors, chips, controllers and other accessories used with smart hydraulic components
06 Software & Service
Software products and Internet platform services related to hydraulics
07 Smart Manufacturing
Smart manufacturing management platform and other related products and application cases
08 3D Printing
3D printing, 3D scanning and other related products and technical services
09 Public Service Platform
Smart component detection, testing, related technical standards, industry linkage service platform
10 Characteristic Products
Characteristic products in the hydraulics area
A forum with 50+ industry experts to provide in-depth interpretation
In addition to the exhibition area, the SMART HYDRAULIC PLAZA has also set up a forum area, where business representatives and experts from upstream and downstream industries of smart hydraulics will be invited to share in-depth interpretation on cutting-edge products and technologies, and share their views on the future development and trend of smart hydraulics.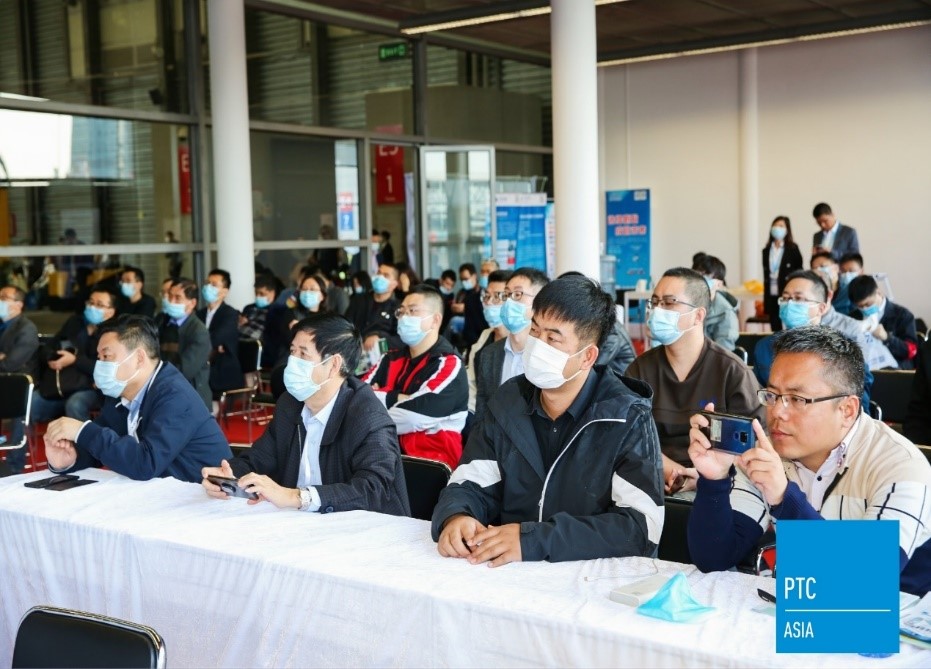 Meanwhile, the expert team of the SHPSA will also be present to offer professional explanations on the exhibits in the SMART HYDRAULIC PLAZA, and provide technical support for buyers and sellers to stay on the same page.
SMART HYDRAULIC PLAZA will be open for visit free of charge.
Welcome to pre-register for the exhibition
And get more first-hand information of smart hydraulics ahead of time!