Changsha Automobile Exhibition Succeed 2020.05.13

During the Labor Day holiday, #Changsha (#Hunan province) successfully held the first post #covid19 offline #Automobile #Exhibition with over 62 000 visitors. The percentage of closing deals on site was 38% (the highest so far). The operation process on the venue was stricter than before.


According to the organizer`s and government requests, all visitors have to:


1. Register on the mini-app (Wechat) developed by the government for a QR-code. This app is linked with the aviation, railway and transportation services, also the national health commission, so after registration you could know the trials of infected people.


2. Have your ticket ready as usual.


3. Prepare for a temperature check. People who are over 37.3 ℃ cannot enter.


4. Scan your ID and ticket to enter. Also there is a face recognition system to go through. Inside the venue you need to wear a mask and keep a social distance.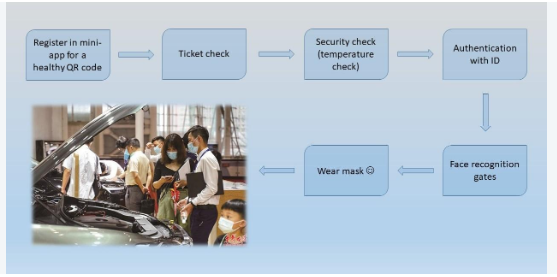 #staysafe #socialdistancing #hmfs